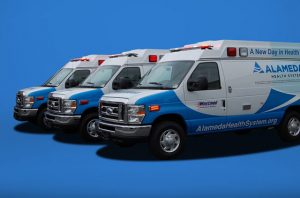 Whether you lead a small business with a virtual footprint, or have multiple locations across the state or country, the fact remains that your advertising and marketing budget must deliver ROI. That is where fleet wraps makes clear bottom-line sense, and below we highlight the 4 key reasons why:
Fleet Wraps Advantage #1: They WORK!
Naturally, the most important question that business decision-makers must ask of any prospective advertising and marketing investment is: will this work? When it comes to fleet wraps, the answer is a definitive YES. According to the Outdoor Advertising Association of America (OAAA), vehicle wraps (including fleet wraps) provide the lowest cost-per-impression of any form of advertising, and a single wrap can generate between 30,000 and 70,000 daily impressions.
Fleet Wraps Advantage #2: Full Customization
Many conventional forms of advertising oblige businesses to take a generic "one-size-fits-all" approach. However, fleet wraps can be completely customized to convey a compelling, memorable and distinct message. Businesses do not have to worry about their brand getting lost in the crowd. On the contrary, they will stand out and apart – and get people talking, surfing and dialing.
Fleet Wraps Advantage #3: Micro Targeting
Unlike billboard and other conventional interrupt advertising (radio, TV, etc.), fleet wraps are mobile – which means they can reach specific geographic areas to generate the most impact. For example, in order to reach desirable target audiences wrapped cars can be targeted to travel around (or park at) events like community gatherings, professional conferences or sports tournaments.
Fleet Wraps Advantage #4: Cost Effective
Fleet wraps are available in all sizes, from those that virtually cover the entire vehicle, to those that cover a smaller but highly visible portion (such as the rear of the car). This makes it an affordable advertising option for all businesses, which cannot be said for options such as billboards, or radio and TV advertising – which can cost thousands of dollars a month, and may not be effective or even remembered.
Learn More
To learn more about the bottom-line advantages of fleet wraps, and how to take advantage of this high impact, low cost advertising and marketing strategy, contact the Lucent Graphic Solutions team today. Your consultation with us is free, and we will clearly explain various options that fit your outreach goals and budget.