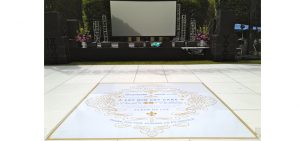 Floor graphics have been enjoying a great level of popularity as the new advertising medium.  A floor was never considered a feasible location to place an advertisement but that is no longer the case.
Over the past few years the adhesive technology in vinyl have advanced dramatically.  This type of advancement allows print shops to design, print and install graphics on surfaces that was considered not possible in the past.
More and more consumers these days walk around looking down on their phones either texting or playing games.  This makes the floor a new surface to place eye-catching graphics to attract customer's attention.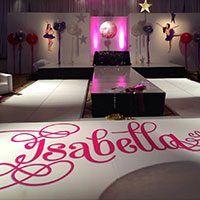 Consumers are overwhelmed by the amount of advertising is targeted at them from all types of common surfaces such as walls and windows.  As a result they have learned to ignore these types of mediums.
Floor graphics are relatively a new medium therefore the consumer's brain hasn't learned to ignore them as quickly as other form of advertising.
Vinyl manufacturers are in a race to develop new products that are specifically designed for floor graphics.  These products can handle high foot traffic surfaces and still remain durable and attractive.
These products range from short-term to long-term for indoor and outdoor uses.  Dance floor graphics use short term vinyl that can easily be removed without leaving an adhesive residue.  The vinyl is matched with a non-slip laminate to ensure a safe and non-slip surface for the dancers to enjoy.
Floor graphics can be used on many different surfaces such as; carpet, concrete, asphalt, marble and wood trade shows.  They make a great choice for special events, sporting events, weddings and parties, retail stores, shopping malls and offices just to name a few.
At Lucent Wraps we have been designing and developing unique floor graphics for the past eleven years.  Our talented graphic designers are experts in designing effective floor graphics and realistic 3D designs.  Combined with out professional installation teams this allows us to delivery high-quality floor graphics anywhere in Southern California.
To learn more, contact the Lucent Graphic Solutions team today. Your consultation with us is free.