Custom Wall Graphics
TRANSFORM YOUR OFFICE FROM WORK TO WOW!
The custom wall graphic design options that Lucent Graphic Solutions provides are nothing short of amazing. From subtle and stylish designs to bold, eye-catching looks, these custom wall graphics create an impressive visual in any environment.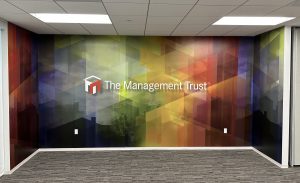 With a wide array of digital printing technology at their disposal and the expertise of their experienced designers, it's no wonder businesses and organizations choose these custom wall graphics for their interior decor and audience engagement needs.
One of the primary reasons to opt for custom wall graphics is ease of installation. As a California Licensed Contractor, Lucent Graphic Solutions' crews are specifically certified to hang wallpaper, ensuring that each and every graphic is professionally installed for a lasting look.
Additionally, their custom wall graphics are designed and printed using state-of-the-art digital printing technology, enhancing the quality and precision of the end result. This combination of a high-quality product and superior installation results in a wall graphic that stands the test of time and looks just as good as the day it was installed.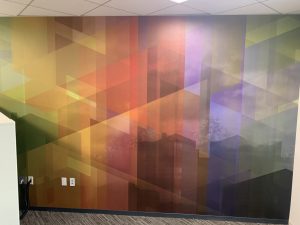 Custom wall graphics are available in a wealth of different sizes, colors, textures, and even patterns, so you have complete freedom to create the perfect image. Whether you wish for a simple wall mural to add a touch of personality to a previously plain space, or an advanced combination of Matte & Gloss finish to add pizzazz, everything is possible with our experienced team.
On the practical side, custom wall graphics are an excellent way to revitalize any space. Whether you're looking to create a unique environment in your store or office, or to add some dynamism to a presentation or event space, custom wall graphics are the perfect design element to meet these needs. These graphics also offer multiple benefits in education settings, as they provide a focal point for learning material and create a welcoming learning environment for students.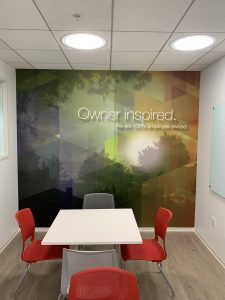 At Lucent Graphic Solutions, we prioritize customer satisfaction.  We take great pride in our craftsmanship, ensuring every job is completed to perfection. With us, you can be assured that your wall graphic will last for years to come.
Invest in custom wall graphics for an eye-catching transformation of any room or outdoor space. At Lucent Graphic Solutions, we guarantee a professional-quality outcome, no matter the size or complexity of the project. Contact us today to get started on your custom wall graphics and check out our Wall Graphics page.