Angela L.
Edmund and his team at Lucent Graphic Solutions are the best at what they do! They are extremely professional and reasonably priced! Their turn-around time to get a job done is about as quick as it gets! We had them install a wall wrap for us in our office space and they did it in under a week's ...Read More
Angela L.
Huntington Beach, CA
---
Lucent Graphic Solutions is first class from start to finish! Their product and customer service is hands down, THE BEST. I recently invested some money from our marketing budget into getting our car wrapped and I couldn't be happier. I am very impressed with the quality of the product and how seamless ...Read More
Dustin B.
Laguna Beach, CA
---
JJ G,
Excellent work, excellent service. LGS team is a pleasure to work with. They will go above and beyond to make sure you are satisfied with your final product -- we certainly were. We'll definitely be going to Lucent for our future wrapping needs.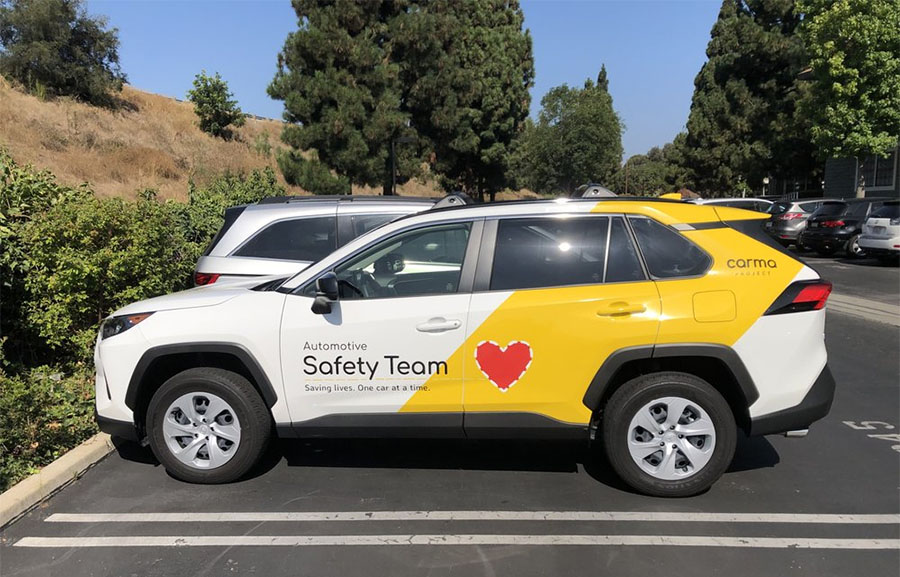 JJ G.
Irvine, CA
---
They did a great job on our first cargo van and we purchased another one that they will wrap this week. I contacted 2 other companies and they never got back to me with a proof. Mark got right back to me with a customized proof. He was on top of it and made it easy.
Krystal W.
Orange, CA
---
Julie S.
Wow! What a difference ONE day makes. We dropped off a plain white car on Thursday and picked up a colorful, custom College4Careers ride on Friday!
The team at Lucent Graphic Solutions are not only fast, they are professional, patient, and honest.
This was our first venture into vehicle wraps and ...Read More
Julie S.
Huntington Beach, CA
---
My office contacted Lucent Graphic Solutions about getting a wall wrapped in our reception area. After talking with Mark and getting a ton of information that we needed to prep for the install we chose to go with Lucent to get our wall wrapped.
We got a couple other offers that were a ...Read More
Zachary G.
Laguna Hills, CA
---
I got my limo/tour bus wrapped and Lucent Graphic Solutions did an awesome job! Easy to communicate with and best prices. I checked with a couple other companies also but knew right away this company was the one to go with after talking to Edmund. After only a few weeks with the wrap, I have already ...Read More
Brandon S.
Costa Mesa, CA
---
If you want a quality vinyl wrap company, look no further. From my experience, these guys are top notch. I have used them on several occasions. No job is too small. I'm on my way to them right now in fact to get some more work done. Quality, quality, quality.
Tyler A.
Costa Mesa, CA
---
Edmund is very detailed and very willing to go the extra mile to provide a quality finished product. Our company had a kiosk that needed a very specific graphic wrap. We went through an exhaustive color matching test print process, and at each stage Edmund was helpful and willing to assist us. The ...Read More
Kassandra M.
San Juan Capistrano, CA
---
This place has the best customer service and the fastest turn out too! I requested a quote to get my car done with my company logo and lettering, Edmund responded right away to the initial request with a nice email and a very reasonable price. Whenever I ended up having a couple of changes and every ...Read More
Mariela C.
Laguna Niguel, CA
---
Lucent Graphic Solutions is Simply the Best!!! Edmund spent a lot of time with me making sure exactly what I wanted done to my car. He is an artist when it comes to vinyl wrapping. I got my Lexus ES350 covered in the glossy black vinyl. My car never looked so good! There weren't any bubbles. Very ...Read More
Diane C.
Newport Coast, CA
---
This was a great experience! Lucent wrapped my 7 Series, and the car looks fantastic. The owner Edmund was super cool, and extremely efficient. This was the first car I've had wrapped, and I can't imagine the results being any better. My buddy recommended this place, and I couldn't be happier!
Mike D.
Newport Beach
---
This guy does awesome work for the right price!!! A client of mine needed to wrap a truck for a tradeshow which Lucent Graphic Solutions did a fantastic job on. Not only did they finish the Job in a rush but did such a clean job. By far the best wraps in SO CAL! I spoke directly to Edmund, his super ...Read More
Nader R.
Irvine, CA
---
This was a great idea. They wrapped my M6 and I couldn't be happier. He helped me figure out what was going to be best for my needs. Edmund took his time and did it right. I wish I had done this before!
Joe G.
San Francisco, CA
---
I wrapped my BMW Convertible with a stainless steel color. It came out absolutely great. Edmund is as meticulous as they come. He helped me select the right color and the quality and detail of his work is unsurpassed. I highly recommend Lucent A+.
Joseph C.
Newport Coast, CA
---
Edmund at Lucent Graphic Solutions is Simply the Best! He recently wrapped our plain White BMW 325 to a Matte Finish. He also wrapped the interior from a wood finish to a metallic finish which complimented the new exterior matte wrap. I was referred to Edmund by our neighbor. My neighbor is a car ...Read More
Diane C.
Newport Coast, CA
---
Wouldn't use anyone else. They nailed it. Car looks great. And done with a smile 🙂
Ashworth P.
Carlsbad, CA
---
My Aston Martin is probably the first and only Aston Martin wrapped in Matte Black in Orange County and it could not have been done better and more beautifully by Lucent Graphic Solutions. Edmund is a professional, fair and a very nice guy. He also did my brother's SLR, he is also very happy with ...Read More
Javid V.
Laguna Niguel, CA
---
I got my Range Rover Sport wrapped. It looks amazing I get so many compliments. Lucent was quick and amazing quality.
Steve F.
Newport Beach, CA
---
I have a great experience with Lucent Graphic Solutions, they Applied My Company Name & Logo on Both of my Truck And Van, I get so many Compliments, The Work is Excellent, Very Durable materials they use and it has been holding up perfectly for the last 6 years, I highly Recommend their services ...Read More
Emile A.
Costa Mesa, CA
---
I got a new Ford Raptor and the car is my baby. I wouldn't trust it to just anybody. I'm in the automotive repair industry so I'm very picky as I know what quality work looks like. Edmund was referred to me by word of mouth and after talking with him I felt totally comfortable with him wrapping ...Read More
Joe S.
Costa Mesa, CA
---
LGS wrapped our Rip Curl Nav 6 and company Nissan box van. They did it quick and an amazing job and are always great to work with. Check out our Live the Search vehicles driving up and down the Cali coast!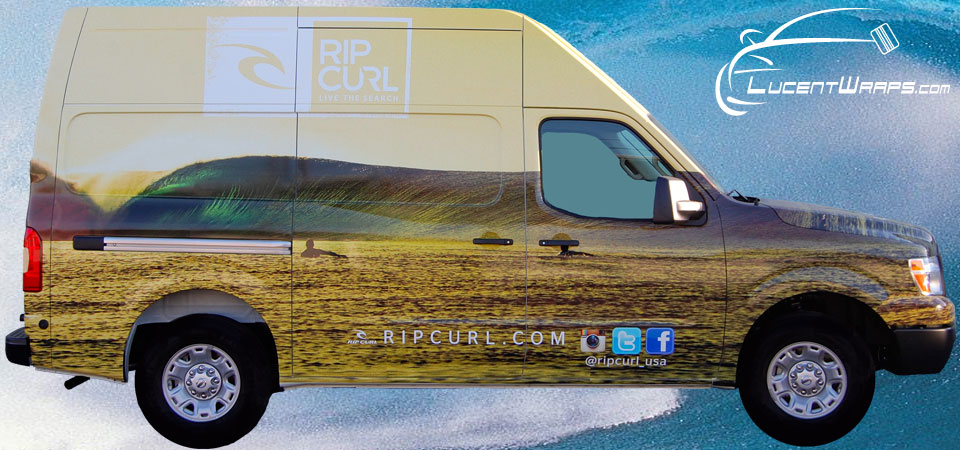 ...Read More
Chelsea J.
Costa Mesa, CA
---
Lucent Graphic Solutions did a great job on the wrap for Corona del Mar Florist delivery van. Edmund was extremely knowledgeable on the product, efficient & courtesy. I have recommended Lucent Graphic Solutions to other small business owners and will continue to do so in the future.

...Read More
Karen Y.
Corona del Mar, CA
---
Lucent wrapped my trailer and I will post a photo, they did a great job!!!!


...Read More
John F.
Mission Viejo, CA
---
We were looking for someone to do a total vehicle wrap on our brand new Roadtrek Nissan NAV-6, to advertise for our partnership with Rip Curl. This vehicle will be in front of ESPN interviews, print work and traveling up and down the West Coast and Mexico for surfing events, we wanted somebody with ...Read More
Ken M.
Guasti, CA
---
Extremely customer related business that was fast and great work!
Brian M.
Honolulu, HI
---
Lucent Graphic Solutions did a fantastic job on my car wrap. He was professional, honest, and great to work with. I highly recommend Lucent Graphic Solutions!
Stephanie H.
Ladera Ranch, CA
---
Hats off to Lucent Graphic Solutions. 100% satisfied. Quality installation and professional, honest individuals. He did some work at our offices frosting the glass on our executive suites and we started talking. He did such a great job, I took my car to him and both the offices and my car look great.
Gerry F.
Anaheim, CA
---
Great service. Lucent filmed all our private offices, quick and painless. Quality of the product was consistent.
Martin F.
Irvine, CA
---
Lucent is the perfect company to do your car, van, or truck wraps. Our turned out exactly the way we designed it! It's been over a year since we had our BBR Surfwear Van wrapped and still looks brand new. Also, it was done so quick! Thanks guys
JK P.
Newport Beach, CA
---
The wrap looks totally awesome! A number of us employees couldn't help but stare at it for the longest time, while it was being installed. Your installers were very professional and accommodating (we had one minor modification request to make it look more symmetrical). I appreciate your providing ...Read More
Willy
Arrowhead / Nestle Waters
---
I was looking for a local shop to accent vinyl wrap the front of my Lexus GS. Sent a few inquiries and they were very knowledgeable and responsive to my emails. Made a hassle free appointment and brought my car in. LGS' work is top notch and they don't take shortcuts. They spent a lot of time on ...Read More
Jeff P.
Huntington Beach, CA
---
After spending several weeks and hours searching from LA to SD to find a company to simple add rally stripes to our Camaro I was referred to Lucent Graphic Solutions by James at Dent Remedy! Team Lucent Graphic Solutions, these guys, know their stuff. They were patient with me as I hummed and hawed
...Read More
JK P.
Newport Beach, CA
---
Love Lucent Graphic Solutions!! They helped Ms. Kettle come to life with the Great wrap on our trailer!! Great people to work with!! Thanks so much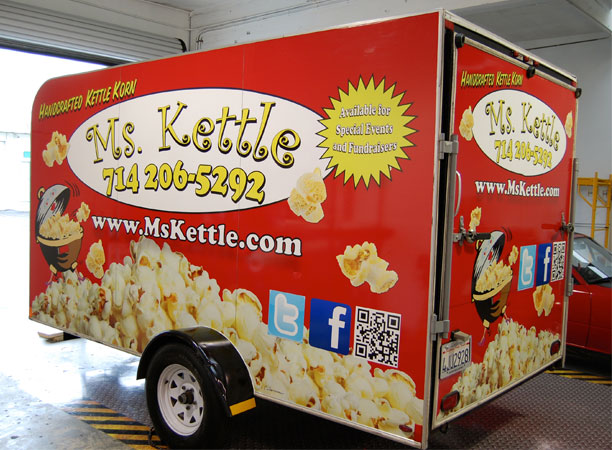 Ms. Kettle Popcorn…
Westminster, CA
---
Dear LucentAds,
We can't thank you enough for designing and installing this amazing wrap for our van. The wrap has already paid for itself with the amount of business we have received from it. Your entire team from design to installation was very professional, guiding us through each ...Read More
The Wire Guys
3/1/2011
---
We started working with Edmund 4 years ago when we wanted a small window decal on our minivan for our crime scene cleaning business. As our business has grown we've had them fully wrap a cargo van, cargo trailer, and even the wall in our son's bedroom. Their rates are fair and the quality of their
...Read More
Eco Bear Biohazard Cleaning Company
3/1/2011
---
We wrapped a Ford Transit Connect with advertising. I could not be happier with Lucent Graphic Solutions. As the other reviews state, the service is first class from beginning to end. To begin with, Lucent Graphic Solutions takes the time to understand your business and the message you want to convey. ...Read More
Young L.
Los Angeles, CA